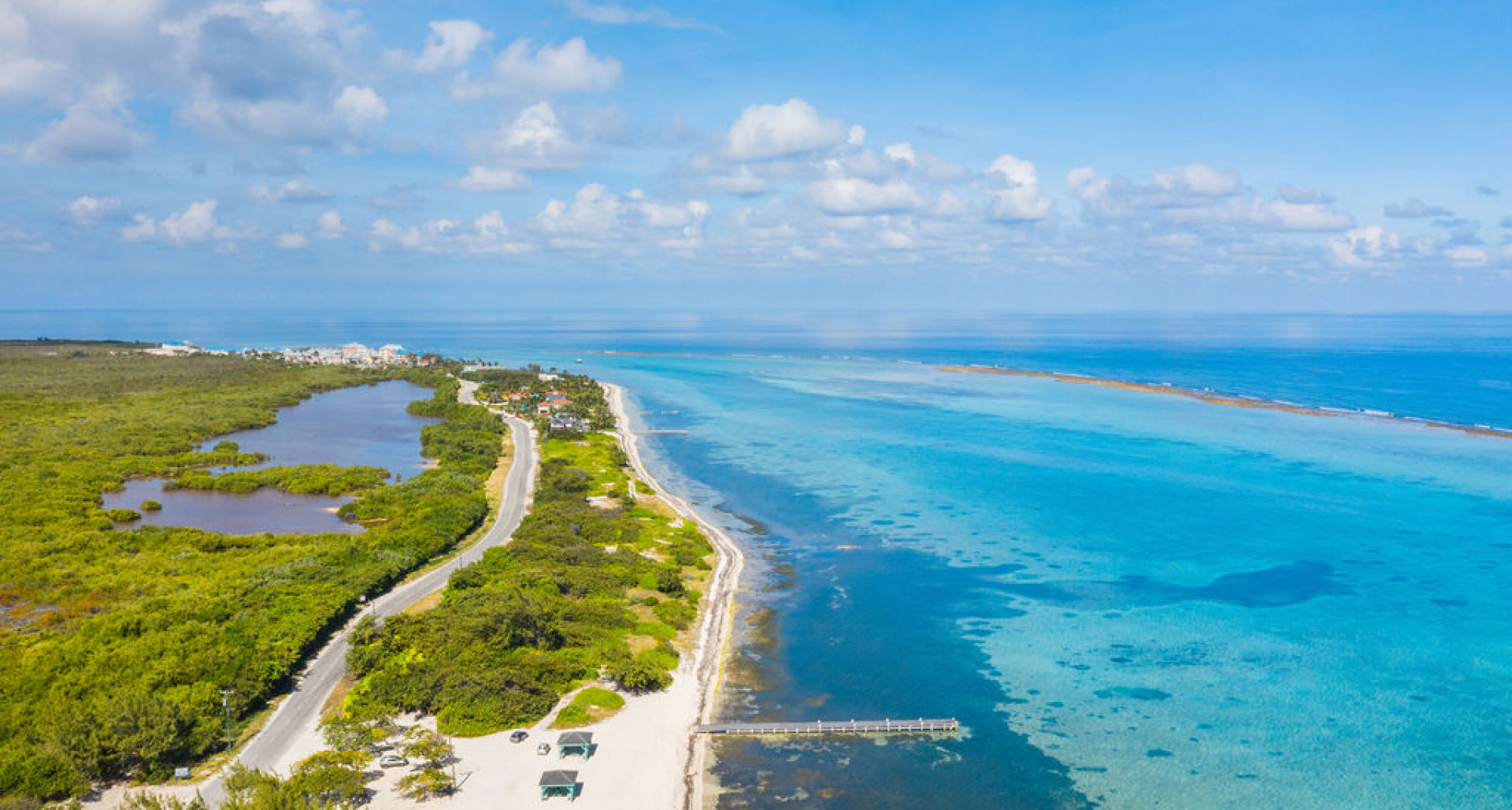 $77,900,000 $95,000,000
EAST END DEVELOPMENT SITE
538.0000 acres
MLS: 412424
This large site is located about 24 miles to the east of George Town at the East end of Grand Cayman, the Islands most easterly point. It has sandy beach frontage which is reef protected, and although it is approx. 20 miles from the airport and George Town, this area has been one of the fastest growing areas of Grand Cayman over the past few years.
On the interior, the site has approximately 5,000 feet of road frontage with all but 1.900 feet of this being the Colliers Pond. The Colliers Pond itself is a protected animal reserve and appears to occupy as much as 20 acres. Much of the interior acreage has undemarcated boundaries having never been surveyed and therefore the actual sizes are not precise. However, our estimate of the size of the entire assembly is approximately 530 acres. The interior parcels nearest to the road are covered with high indigenous bush and as we move inward the land becomes reasonably clear with grass, trees and shrub vegetation and cliff rock formations with areas of topsoil. There are a few spots in this area that rise to 20 feet above sea level and none of it is low lying aside from the pond itself. As further evidence of the land characteristics there is both a farm and a quarry nearby. There is also approx. 1,475 feet of ocean frontage which like most sites in Cayman, is bisected from the main assembly by the East End Road. The land rises up slightly from the sea to the road, and the waterfront itself is beautiful reef protected sandy beach. The east being the windward side, this property normally has a nice breeze, yet the water is calm due to the protective reef. There are excellent views of the sea and this site is capable of holding residential units as well as a hotel beach facility.
Electricity is available along the main public roadway as is the mains water supply. A sewage plant would be required as there is no sewage system in this area. Approximately 1/3 of the property sits above the islands most extensive water lens. The land owner would be able to tap into this ground water supply to the extent that its use does not threaten the continuing viability of that supply.
The Zoning of the beachfront is currently Hotel/Tourism and comprises approximately 8 acres while the interior is Low Density Residential comprising approximately 500 acres of useable property in addition to the 20 plus acres comprising Colliers Pond. Hotel Zoning allows for 65 hotel units or 20 condo units per acre on 40% site coverage. Set backs from the sea are 100 ft. from the low water mark and 30 ft. for each additional storey. Side set backs are ½ the height of the building with a 15 ft. minimum. Rear setbacks are 25 ft. from the road or lot boundary. Low Density Residential zones allow for 15 apartments/acre or 3 houses/acre with 25% site coverage and a maximum of 3 storeys. A large development in East End would have government support and reasonable zoning changes to facilitate such a development would probably be possible. The most recent Development Plan includes a provision for "Specific Planned Areas". These are properties in excess of 40 acres which would require multiple zonings to achieve their development purpose. This property and the potential for development of a Destination Resort would be an ideal use of the concept of a Specific Planned Area.
This site comprises Block 73A Parcels 20,51,61,62, REM 1
Block 74A Parcels 2,4,63,91
Legal Physical Approximate Size
73A/20 Inland Roadside 9.10 ac
73A/51 Pond Surround 2.15 ac
73A/61 Pond 24.54 ac
73A/62Rem1 Inland 390.60 ac
74A/4 Beachfront side 2.89 ac
74A/4 Inland Roadside 8.31 ac
74A/2 Beachfront side .97 ac
74A/2 Inland Roadside .32 ac
74A/91 Beachfront side 3.20 ac
74A/91 Inland Roadside .89 ac
74A/63 Inland 95.19 ac
538.16 ac
Key features
Price

$95,000,000

USD

Price/sq ft

$4.05

USD per sqft

Acres

538.0000

View

Beach Front
Videos
Schedule a viewing
Download brochure
Don't miss out
Get the latest listings, property news, insights, and market reports delivered right to your inbox.